I was never really one to invest in expensive pieces until I bought the Babaton Sculpt Knit Tank. In June, I bought both the black and white version. After purchase, I proceeded to wear them almost every single day over the summer. I can prove this statement if you check my Instagram page, where I'm basically wearing it in every recent post. Even with winter rolling in hot, I'm still finding ways to incorporate these tank tops into my outfits. Sorry, not sorry. I have no regrets about being in love with this top!
 

 

 

View this post on Instagram

 

 
Features + Review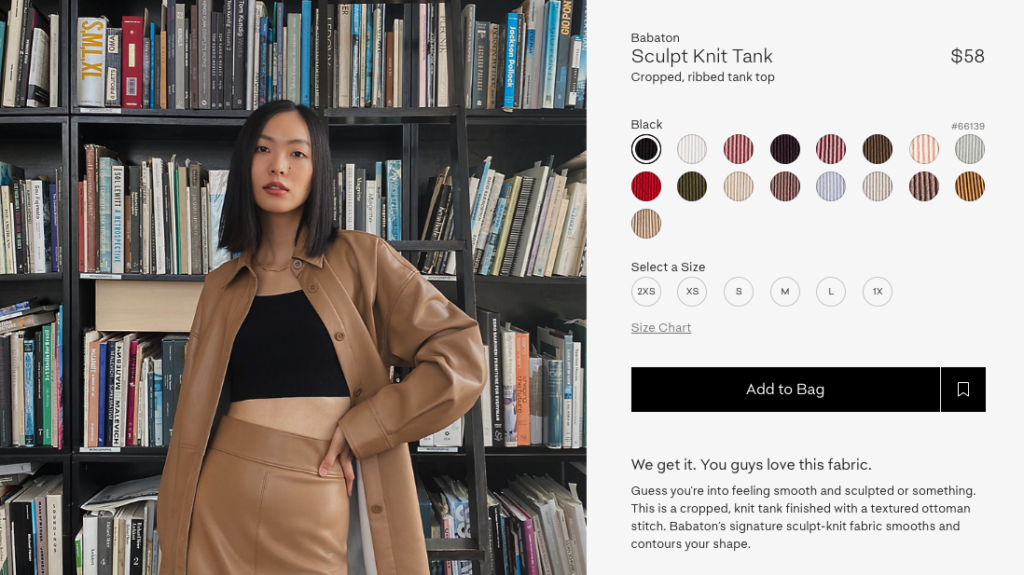 This tank runs at a solid $58 CAD but is well worth the price tag. I know it sounds crazy to spend this much on a basic tank top, but its features make it extremely versatile. It currently comes in 17 colours, with new colours coming out every season. The material breakdown comes to 100% nylon. The website says to hand wash only, however… I've personally thrown mine in the washing machine (cold water) multiple times and they're still as good as new.
Its ribbed texture provides for a sleek look that can be dressed up or dressed down. Sweatpants, jeans, or dress pants – check, check, and check! They aren't kidding when they say "sculpt" because it really does its job by accentuating your curves. I'm normally between an XS/S, but I opted for an XS. The material is forgiving, even though it really clings to the body nicely without squeezing too much in awkward places. I really enjoy the thickness of the top as well. You can go braless – even in the white version!
It hits right above the belly-button, so its cropped-style pairs well with high-waisted pants. But, if you prefer a longer version, you can opt for the Babaton Sculpt Knit Long Tank instead. This version is priced at $68 and comes in 11 different colours.
I'm interested in purchasing a few other colours, but I'm also waiting to see if there will be any holiday sales at Aritzia this year. I've become an Aritzia fiend over quarantine, so if you have any suggestions on what Aritzia items to buy, review, or style, let me know in the comments!
Stay tuned next week, for an upcoming fashion post where I talk about the only comparable dupe I've found to the Babaton Sculpt Knit Tank!